unpackOSC handles timestamps, but also outputs each message immediately, making the delay time available through the right outlet.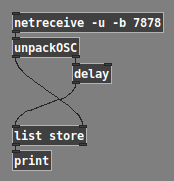 This naïve approach to timestamps will work only if there is ever only one pending message. If the sender spits out 5 OSC messages with different future timestamps, only the last message will be available in [list store].
So that's the wrong approach.
[pipe] could help, but you have to be certain that every incoming message will match the [pipe] object's predefined format, which can't be guaranteed. (So there is a need for an arbitrary-format [pipe]. Does such a thing exist?)
Or, has anyone else tackled this problem? I could do it by adding the delta to a current-time counter and scheduling each message in my tick-scheduler abstraction, more complexity than I'd have expected for a relatively basic function.
hjh