"The PD trees sometimes bear unexpected fruit."
The zip below includes 29+1(raw) standardized effects (esp.) for use with MobMuPlat.
They all work and have been standardized in the following manner:
all are MMP-compliant (so include only objects which MMP supports)
have 3 inlets and 1 outlet~
the inlets are (from left to right): the incoming signal (i.e. inlet~), the parameters(3), and a switch~
the effects have all been finessed to only include <= 3 parameters
the parameters are sent to the second inlet via [0 $1(, [1 $1(, and [2 $1(
the switch is a toggle so 0|1
and
each window is 186x116 pixels.
I have included an .mmp file to listen to and test them with either adc~ | randomnotes. It also includes a bypass toggle , three parameter knobs (which load the parameter name to each label once an effect is chosen), and a gain. Only the selected effect's switch is turned "on" so it is very low on the cpu.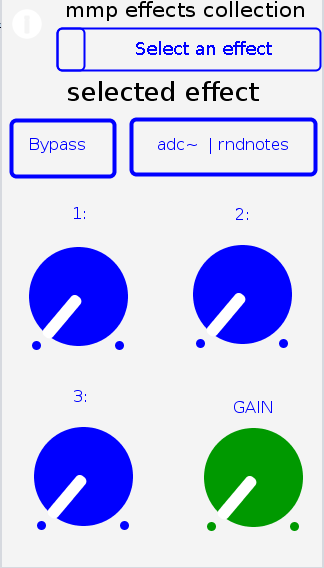 The MMP file, in and of, itself may prove useful to someone as it packages in a single place a 30-effect "pedal-box".
That however is not why I am sharing it.
Since the effects are standardized and mmp-compliant, my hope/thinking is others may include them in their work no matter what it may be and thus build their patches, apps, etc., using the effects as building-blocks.
I have accredit the original effects designers by adding a suffix (in parenthesis) to each effect as follows (in alpha-order):
d=DIY2 Collection
g=Guitar Extended
s=Stamp Album Collection
v=scott vanya (me)
The included effects (basically the best I could find that lent themselves to 3 parameters) are as follows:
audioflow(v).pd
beatlooper(v).pd
bodyresonance(d).pd
chorus(s).pd
delay(3tap)(d).pd
delay(fb)(d).pd
delay(pitch)(v).pd
delay(push)(v).pd
delay(revtap)(g).pd
delay(spect)(d).pd
delay(stag)(v).pd
delay(tbr)(v).pd
delay(wavey)(v).pd
detuning(g).pd
distortion(d).pd
filter(s).pd
flanger(s).pd
hexxciter(g).pd
looper(fw-bw)(v).pd
octaver-harmonizer(p).pd
phaser(s).pd
pitchshifter(d).pd
reverb(pure)(d).pd
ringmod(g).pd
shaper(d).pd
stepvibrato(g).pd
streamStretch(v)-help.pd
streamStretch(v).pd
tremolo(d).pd
vcf(d).pd
vibrato(d).pd
vibrato(step)(g).pd
wah-auto(v).pd
wavedistort(d).pd
Note: there are too many effects to go into detail about what each parameter does. So I leave that for you to either figure out/discover on your own or post here your question and I will answer it as time/energy/etc allow.
Peace and Loving Music Through us all.
Sincerely,
Scott