Here's something to play with: a Karplus Strong synth with harmonic frequency modulation. It's small and CPU friendly but you can get some pretty cool sounds out of it.
Have fun and let me know if you have any suggestions for how to improve it.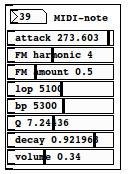 http://patchstorage.com/karplus-strong-fm-synth/
This is a pure Vanilla patch (that's a first coming from me!)
PS. If you search around for long enough, you might find a harmonic sweet spot (ie. try MIDI note 39, FM harmonic 7, FM amount 1).