fx3000~
fx3000~ is a 30-effect abstraction (see effects list below) designed to expedite the creation, spec. of guitar, effect "racks".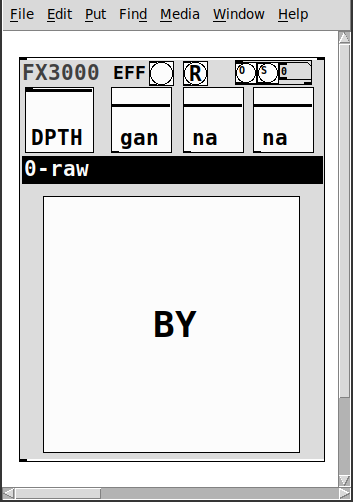 It takes one creation argument, an identifying float, ex. 0, 1, etc.
Has
two inlets

left:~: the audio signal
right: a list of the parameter values: [0-1] for the first 4, [0..29] for the 5th, and [0|1] for the 6th.

1-4: depth and parameters' 1-3 values
5: the index of the effect
6: the bypass for the effect

a [r~ fx3000-in-$1] and [s~ fx3000-$1-OUT] to better expedite routing multiple instances
a [r fx3000-rndsetter-$1] to set random values via a send
20 preset slots per abstraction creation argument, i.e. index, via "O" and "S" bangs, so abs #0 writes to preset file=pres-0.txt (NOTE: if you have yet to save a preset to a slot nothing will happen, i.e. you must add additional presets sequentially: 0 then 1, then 2, etc.)
a [r PREIN-$1] to send values in from a global preset-ter
the names of the parameters/effect are written to labels upon selecting (so I will not list them here)
and a zexy~ booster-limiter to prevent runaway output~
The help file includes three such abstractions, a sample player, and example s~/r~'s to experiment with configurations.
Note: the origin of each effect is denoted by a suffix to the name according to the following, ex. ""chorus(s)"
s:Stamp Album
d:DIY2
g:Guitar Extended
v:scott vanya
The available effects are:
0 0-raw
1 audioflow(v)
2 beatlooper(v)
3 chorus(s)
4 delay(3tap)(d)
5 delay(fb)(d)
6 delay(pitch)(v)
7 delay(push)(v)
8 delay(revtape)(g)
9 delay(spect)(g)
10 delay(tbr)(v)
11 delay(wavey)(v)
12 detuning(g)
13 distortion(d)
14 flanger(s)
15 hexxciter(g)
16 looper(fw-bw)(v)
17 octave_harmonizer(p)
18 phaser(s)
19 pitchshifter(d)
20 reverb(pure)(d)
21 ringmod(g)
22 shaper(d)
23 filter(s)
24 tremolo(d)
25 vcf(d)
26 vibrato(d)
27 vibrato(step)(g)
28 wah-wah(g)
29 wavedistort(d)
I sincerely believe this will make it easier for the user,...:-) you, to make stompboxes, effects racks, etc.
I hope I am correct.
Peace. Love through Music.
-S
p.s. of course, let me know if you notice anything awry or need clarification on something.